Enchanting Transparency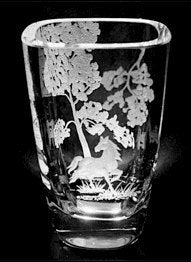 Philadelphia, PA- Glass is easy to overlook because it is all around us. We live in a glass overload today. It's difficult to look around without seeing glass screens, windows, bulbs, or bottles. Swedes a hundred years ago had the same problem—artists worried that people had lost a sense of beauty in 'everyday' things, including glass. After a lackluster display at a 1914 World's Fair in Sweden, craft organizations demanded beauty in household glass. The design revolution that followed launched Sweden ­– and soon Norway, Denmark, and Finland – to the peak of the international glass industry. 
The ASHM is celebrating the proud history of Scandinavian glass in its renovated Linnaeus-Kalm Gallery. Explore 300 years of glass production and the companies who launched their products into households around the world. See photographs and sketches from the 20th century artists and artisans who brought Swedish glass to global fame. Most importantly, though, find the magic within these everyday objects. Time seems to stop as each engraved vase, decanter, and bottle transforms in a flash of light into scenes of enchantment and wonder. Fantastic creatures prowl across shady forests. A spider weaves her web between slender leaves. Divers in the deep plunge for pearls. And – in a true masterpiece of the 1920s – a fashionable woman holds up her prize cactus in a trellised exhibition hall. Like the artists who transformed everyday glass, become lost within this magical material. Learn to step back to look at glass, not through it, to appreciate all its enchanting transparency. 
The newly installed gallery will be open to visitors beginning Saturday, March 17, 2018. The gallery features a collection of 20th century engraved Swedish glass, generously donated to the museum by Jennifer & Charlie Silverman. The gallery renovation was made possible by the support of friends of long time member and photographer Fred Pfaff, in his memory.   
The American Swedish Historical Museum is located in scenic FDR Park at 1900 Pattison Avenue in South Philadelphia near the Sports Complex. Plenty of free parking is available. For those taking public transportation, the Broad Street Subway's AT&T/Pattison Avenue stop is within walking distance or SEPTA's Route 17 (Naval Base) can bring you right to the Museum.